ATI Radeon 9700 Pro
System Requirements
IntelR PentiumR 4/III/II/CeleronT, AMDR K6/DuronT/AthlonR/Athlon XPR or compatible with AGP 2X (3.3v), 4X (1.5V), 8X (0.8v) or Universal AGP 3.0 bus configuration (2X/4X/8X).
128MB of system memory
Installation software requires CD-ROM drive
DVD playback requires DVD drive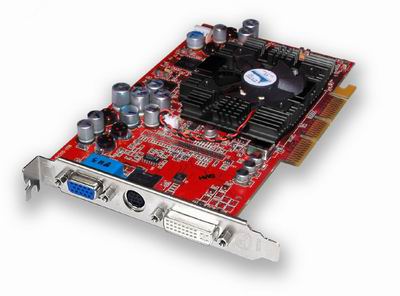 Graphics Technology
RADEONT 9700 PRO Visual Processing Unit (VPU)
Memory Configuration
128MB of double data rate SDRAM
Operating Systems Support
WindowsR XP
WindowsR 2000
WindowsR Me
Display Support
VGA connector for analog CRT
S-video or composite connector for TV / VCR
DVI-I connector for digital CRT or flat panel
Independent resolutions and refresh rates for any two connected displays Features
Eight parallel rendering pipelines
Four parallel geometry engines
256-bit DDR memory interface
AGP 8X support
SMARTSHADERT 2.0

Programmable pixel and vertex shaders
16 textures per pass
Pixel shaders up to 160 instructions with 128-bit floating point precision
Vertex shaders up to 1024 instructions with flow control
Multiple render target support
Shadow volume rendering acceleration
High precision 10-bit per channel frame buffer support
Supports DirectXR 9.0 and the latest version of OpenGL
SMOOTHVISIONT 2.0
2x/4x/6x full scene anti-aliasing modes
Adaptive algorithm with programmable sample patterns
2x/4x/8x/16x anisotropic filtering modes
Adaptive algorithm with bi-linear (performance) and tri-linear (quality) options
HYPER ZT III
3-level Hierarchical Z-Buffer with early Z test
Lossless Z-Buffer compression (up to 24:1)
Fast Z-Buffer Clear
TRUFORMT 2.0
2nd generation N-Patch higher order surface support
Discrete and continuous tessellation levels per polygon
Displacement mapping
VIDEOSHADERT
Seamless integration of pixel shaders with video
FULLSTREAMT video de-blocking technology
Noise removal filtering for captured video
MPEG-2 decoding with motion compensation, iDCT and color space conversion
All-format DTV/HDTV decoding
YPrPb component output
Adaptive de-interlacing and frame rate conversion
Dual integrated display controllers
Dual integrated 10-bit per channel 400 MHz DACs
Integrated 165 MHz TMDS transmitter (DVI HDCP compliant)
Integrated TV Output support up to 1024x768 resolution
Optimized for PentiumR 4 SSE2 and AMD AthlonT 3Dnow!
PC 2002 compliant Warranty Mode Tables2D DISPLAY MODES
Resolutions, colors and maximum refresh rates (Hz) in 256, 65K or 16.7M colors Monitor Resolution
Hz
640x480
120
800x600
120
1024x768
120
1152x864
120
1280x1024
120
1600x1200
85
1920x1080* 16:9
75
1920x1200
75
1920x1440
75
2048x1536
60

*16:9 aspect ratio monitors are supported on 1920x1080 and 848x480 on WindowsR XP, WindowsR 2000 and WinpowsR ME. The complete list of resolutions depends on the driver version and operating system. NOTE: that resolutions are limited by the performance of the attatched monitor.

MAXIMUM 3D RESOLUTIONS
(with 128MB Frame Buffer) 65K colors
2048x1536
16.7M colors
2048x1536




ATI Radeon 9700 Pro Вы можете обсудить на форуме.