ATI RAGE 128 PRO All-In-Wonder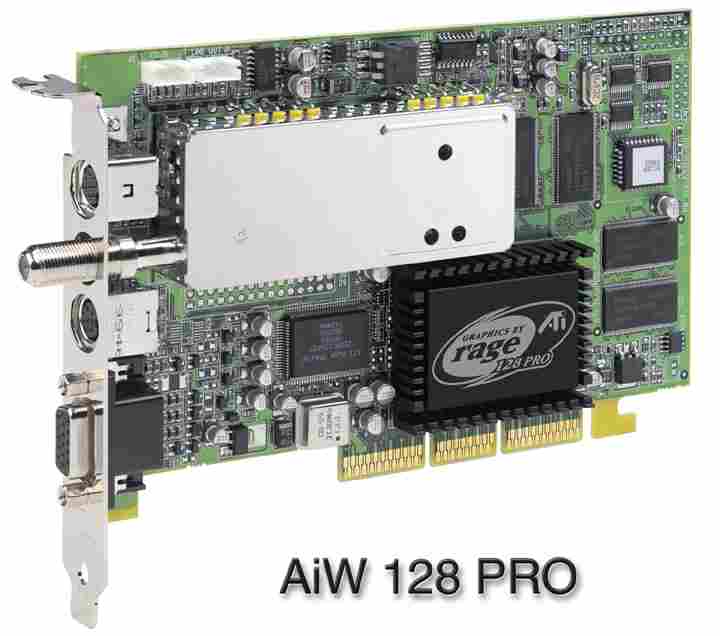 AT A GLANCE
128-bit 3D graphics performance powered by RAGE™ 128 PRO
3D graphics performance
Intelligent TV-Tuner with Digital VCR
TV-ON-DEMAND™
Interactive Program Guide
Still image and MPEG-2* motion video capture
Video editing
Hardware DVD video playback
Video output to TV or VCR
128-bit 3D & 2D Graphics Acceleration
RAGE™ 128 PRO 128-bit chip technology
Up to 32MB of dedicated memory and 32-bit color enhance your 3D experience
Full 3D acceleration in all modes and color depths in resolutions up to 1920x1200@32bpp
Support for DirectX® and OpenGL®
8 million triangles/second set-up engine improves your 3D graphics experience
32-Bit True Color Graphics
32-bit true color mode lets you experience millions of colors and richer details like reflections and shadows
Rock-Solid Hardware DVD Video Playback
Watch cinema-quality, full-screen DVD movies right on your PC or attached TV set
Save the expense of buying a separate MPEG-2/DVD decoder card
Integrated iDCT and motion compensation allows for flicker-free DVD decoding with minimum CPU usage
Intelligent TV-Tuner -- turn your PC into TV
125-channel TV-tuner lets you watch high-quality stereo TV on your PC
Check out the action up close using instant replay or powerful zoom feature
Schedule the viewing of favorite shows, scan through all available stations for a glance at what's on
Digital VCR with Real-time Video Compression and Video Editing
Exceptional video capabilities including a Digital VCR with real-time video compression software
No need to search for videotape - record TV shows and movies right on your PC!
Create your own professional-looking home videos with help from the video editing software included with ALL-IN-WONDER® 128 PRO
Do your business presentations, school projects, and web sites lack excitement?
Bring them to life by adding captured still and moving images from sources such as VCRs, camcorders, and laserdiscs
Capture much more video than ever before, using the same amount of disk space!
Up to 720x480 30 fps video resolution in MPEG-2 capture using the multimedia instructions of the Intel® Pentium® III and AMD Athlon™
Video output to TV and VCR
Connect your ALL-IN-WONDER® 128 PRO card to big screen TV or VCR, and enjoy thrilling gaming action or entertaining and educating experiences available on the Internet
Record the video you have edited onto videotape
AGP4X/2X upgrade card
Full AGP 4X support, permitting the full benefit of the new AGP 4X specification
Backward compatible to support AGP 2X
ATI RAGE 128 PRO All-In-Wonder Вы можете обсудить на форуме.