ATI RADEON 8500DV All-In-Wonder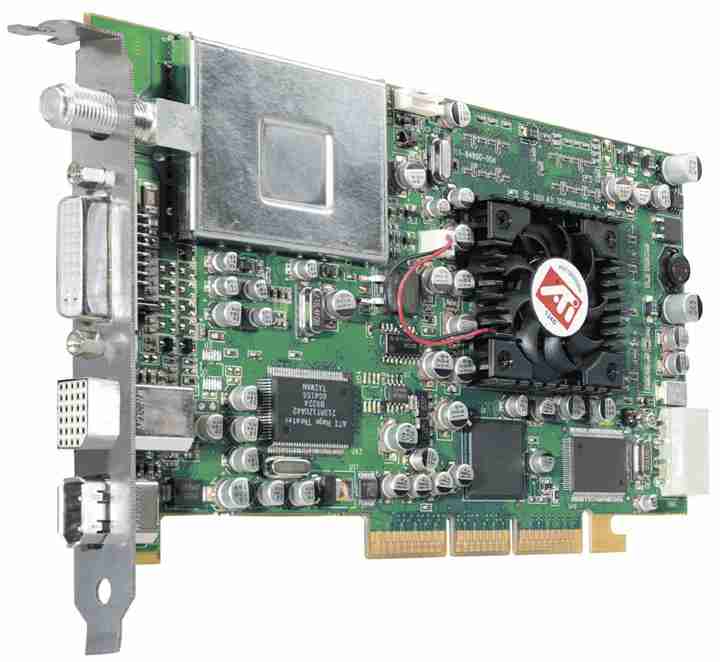 At-a-glance
Powered by the RADEON™ 8500 GPU
64MB DDR memory
Connect a digital camcorder to a PC
Digital and analog video capture & editing
Wireless radio-frequency remote control
Stereo TV-tuner
DVD video playback with Dolby® AC-3 digital audio output*
* Actual Dolby® 5.1 AC-3 decoding is done by the external AC-3 decoder which is not included
Groundbreaking 3D graphics technology
Powered by the latest RADEON™ 8500 GPU
64MB DDR memory provides lightning-fast 3D graphics
ATI's innovative TRUFORM™ technology to make characters and objects incredibly realistic
HYPER Z™ II technology conserves memory bandwidth for improved performance in demanding applications
32-bit 3D gaming at high resolutions up to 2048x1536
Get unparalleled TV features on your PC
Stereo TV tuner with 125 channels
TV-ON-DEMAND™
Pause live TV or record live broadcasts and watch them later
Get instant replays of favorite programs
Click through the translucent live TV window to access your desktop - no more moving the TV window to get to your work!
Use the integrated Gemstar GUIDE Plus+™ Interactive Program Guide1 to view and search TV listings by category, actor/performer, or date. Schedule and record programs at the click of a mouse - all the benefits of a Personal Video Recorder without the monthly fees
Amazing TV features including:
TV Magazine - images and text from TV programs allowing you to read and archive TV programs
Hot Words - real-time notification when selected words are detected in programming
Zoom & pan - zoom in on the action on-screen and choose your own close-ups
Intelligent Teletext on your PC
Experience home theater with DVD and digital audio on a PC
Industry-leading DVD playback with AC-3 Digital Audio* output to enable Dolby® Digital 5.1 surround sound
ATI's VIDEO IMMERSION™ II technology integrates industry-leading digital video features for unprecedented video quality
*Actual Dolby® 5.1 AC-3 decoding is done by the external AC-3 decoder which is not included.
Radio-frequency remote control
Control the TV, video, DVD and gaming features of the ALL-IN-WONDER® RADEON™ 8500 from another room in the house using ATI's remote control*
No need to point the remote control at the receiver - connect your PC to your TV and watch DVDs, search channels, or record TV shows from your couch
*Available USB port required
Dual display technology
Connect to a TV and a monitor (VGA or DVI) simultaneously
HYDRAVISION™ software enables you to display information on a TV and monitor at the same time
ATI RADEON 8500DV All-In-Wonder Вы можете обсудить на форуме.