Asus V9280S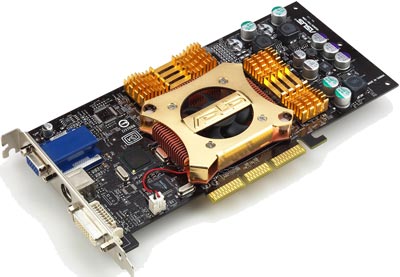 World's Most Advanced GPU– NVIDIA® GeForce 4™ TI 4200-8X
AGP 8X support
NVIDIA nfiniteFX™ II Engine
Accuview Antialiasing™ Subsystem
nView™ Display Technology
NVIDIA Lightspeed Memory Architecture™ (LMA) II
Microsoft® DirectX® 8.X and OpenGL® 1.3 Optimizations and Support
Advanced circuit design
The PCB of the V9280S is specifically designed for high-speed operations. The V9280S easily defeated all generic GeForce4 Ti4200-8X cards by other vendors in various 3D benchmarks.


ViVo support
With Video-in and TV-out support, the V9280S provides easy and high-quality video experience.
ASUS Digital VCR
The ASUS Digital VCR allows users to capture their favorite videos with MPEG I, MPEG II and AVI compressions, and enjoy high-quality video playback.
ASUS VideoSecurity II 
ASUS VideoSecurity is powerful software for users to flexibly build their own security systems.
Detect any environmental change, or monitor a specified location, or screen any visitor
When there is a deviation in the user-defined region, it can:

Capture the detected unusual condition in high quality AVI file
Take a single/multiple snapshots of the detected object
Send a warning e-mail with snapshots to a user-defined address
Make a warning call to a user-defined phone number
Execute a user-defined program

Full digital technology used is better than VCR-type video security system


Effective cooling system
A high-quality cooling system equipped with a copper heatsink, a three-fin fan, two standalone memory heatsinks and a full-size backboard heatsink. The V9280S provides stability and top-performance even on high clock rates.
Superior Performance ( ASUS V9280S v.s. Generic )
| | | |
| --- | --- | --- |
|   | ASUS V9280S | Generic Ti4200-8X |
| 3DMark2001 SE ( 560+ Higher )@ 1600*1200*32(60Hz) | 6615 | 6047 |
| GPU Clock ( 10% Higher ) | 275 MHz | 250 MHz |
| Memory Clock ( 20% Higher ) | 600 MHz | 500 MHz |
| PCB Spec. | 8 Layers | 6 Layers |
| Memory Type | BGA | TSOP |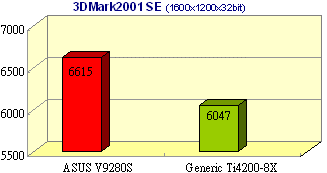 V9280S SuperFast
Engine Clock
275 MHz
Memory Clock (DDR)
600 MHz (300MHz DDR)
Memory Bandwidth
8.0 GB/sec.
Fill Rate(AA Samples/sec.)
4 Billion
Vertices per Second
113 Million
Operations per Second
1.03 Trillion
Effective Memory Clock Rat
600 MHz
RAMDACs
350 (MHz)
Asus V9280S Вы можете обсудить на форуме.